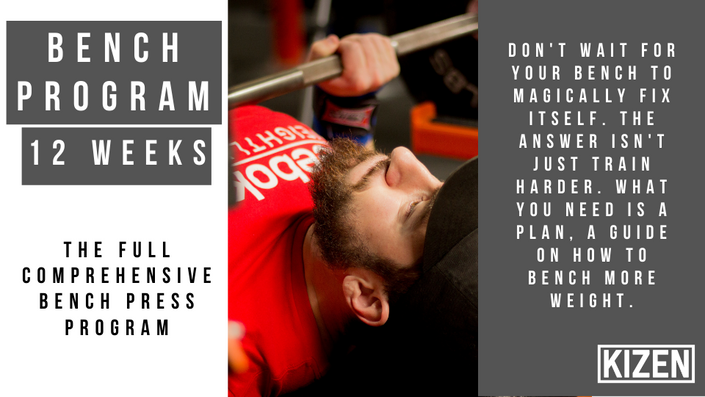 Bench Program: 12 Week
The Full Comprehensive Bench Press Course
HOW MUCH YA BENCH??
That's the most common question people ask when you start talking about lifting (that and if you think the 5 year old protein in their bag is "still good"). We don't pretend to know why or when the bench press built such significance; we'd rather not mess with tradition. What we care about, like all of you, is becoming
BETTER
at the bench press.
You see, to put it scientifically, the bench press is a tricky fucker. For most people their deadlift can go up pretty rapidly once they learn proper technique. For the squat, you increase someone's frequency and they are likely to be squatting big weights in no time. But the bench? The journey from 1 plate to 2 plates can take eternity (never mind going from 2 plates to 3 plates)!
Sadly, a lot of people never make it to the 3 plate mark, even though I personally feel anyone who is 180lb+ can VERY LIKELY at some point bench 315lb. What's the reason? They have the desire but not the PATH to success. They know what they want, but not what they should be doing.

And I was just like everyone else.
I remember when I first started lifting. From the get go I had delusions of grandeur. I would bench 2 plates within a few weeks!!! I went in the gym and gave it my all every workout. Hour upon hour I'd pour my sweat out pushing myself. Gave 100%.

Did I reach 2 plates? Nope. Not even close.

It took me MONTHS to even bench 1 plate for reps. By end of my first YEAR of lifting I could bench press 2 plates for a very sloppy rep. Then the wasteland occurred. I jokingly call the gap between benching 2 plates and 3 plates "the wasteland" because it takes seemingly forever, if it ever happens.

My initial beginner progress came to a complete stop. I spent the next several years eeking my 1 rep max from 225lb to 270lb. And then progress just stopped. Completely. 3 plates was never going to happen. The wasteland had won.

Or so I thought.

By chance I discovered an amazing powerlifting gym (a recommendation I got at a wedding). I met the owner, Sean Kelly and I quickly discovered I knew nothing about lifting. You mean I WASN'T supposed to go to failure every workout!?! But then how did I know I was trying hard enough? I gotta be honest, I was kind of embarrassed by my lack of knowledge and accepting his help took some time (dat ego). Finally, I agreed to get help and it was the right choice.

Through his quick crash course on periodization, percentages, volume etc (and buying books he recommended) I was quickly able to get my bench from 270lb to 315lb in ONE YEAR. I had spent the last 3 years struggling to increase my bench 45lb and within 1 year of proper training, I had increased it a further 45lb...getting almost 3x the progress.

I had finally reached my goal. As the years progressed I was able to add more pounds until my bench press, eventually benching 350lb at 180lb bodyweight. The knowledge I was given was invaluable. If I'd known about training properly all those moons ago, my progress would have been A LOT faster.

And that is what our bench press program is all about really. Sharing the knowledge all three of us have accumulated over our 30+ years of lifting/coaching into a very smart, versatile and most importantly, effective bench press program.

We're not trying to pretend we're anything we aren't. We are passionate lifters like you who have been through the grind. Guys with average genetics trying to maximize what they have. We've tested this program out with ourselves and our clients to test it's effectiveness and we were thrilled with the results.

And we are selling this program for next to nothing. It's $27. You spend hundreds of dollars a year on a gym membership, it's time to invest in your lifting.

So if you are frustrated with not making progress and have been looking for a smart, structured program to help break through your rut, this specialized bench press program is for you. It includes 12 full weeks of programming, a full PDF explaining how to maximize your results on the program, a video overview and a video library going over all the bench press lifts/accessories to dial in your technique.

Don't wait to magically hope your bench press somehow "fixes itself". The answer isn't to just train "harder". What you need is a plan, a guide on HOW to bench press more weight.

Take action. Get stronger. Get our Premium 12 week bench program.

Best,
Omar, Bart, & Mike
---
What's Included?
Full 12-week program in 3 forms:

Editable excel file with program so you can add in your numbers like a journal
PDF version of the program
Week by week text version delivered through your account here
5 days a week of programming

Access to instructional video library demonstrating proper form for bench press and how to do all accessory movements.


Onboarding welcome video to get you started in the right direction and explain the program more in depth.
Your Instructor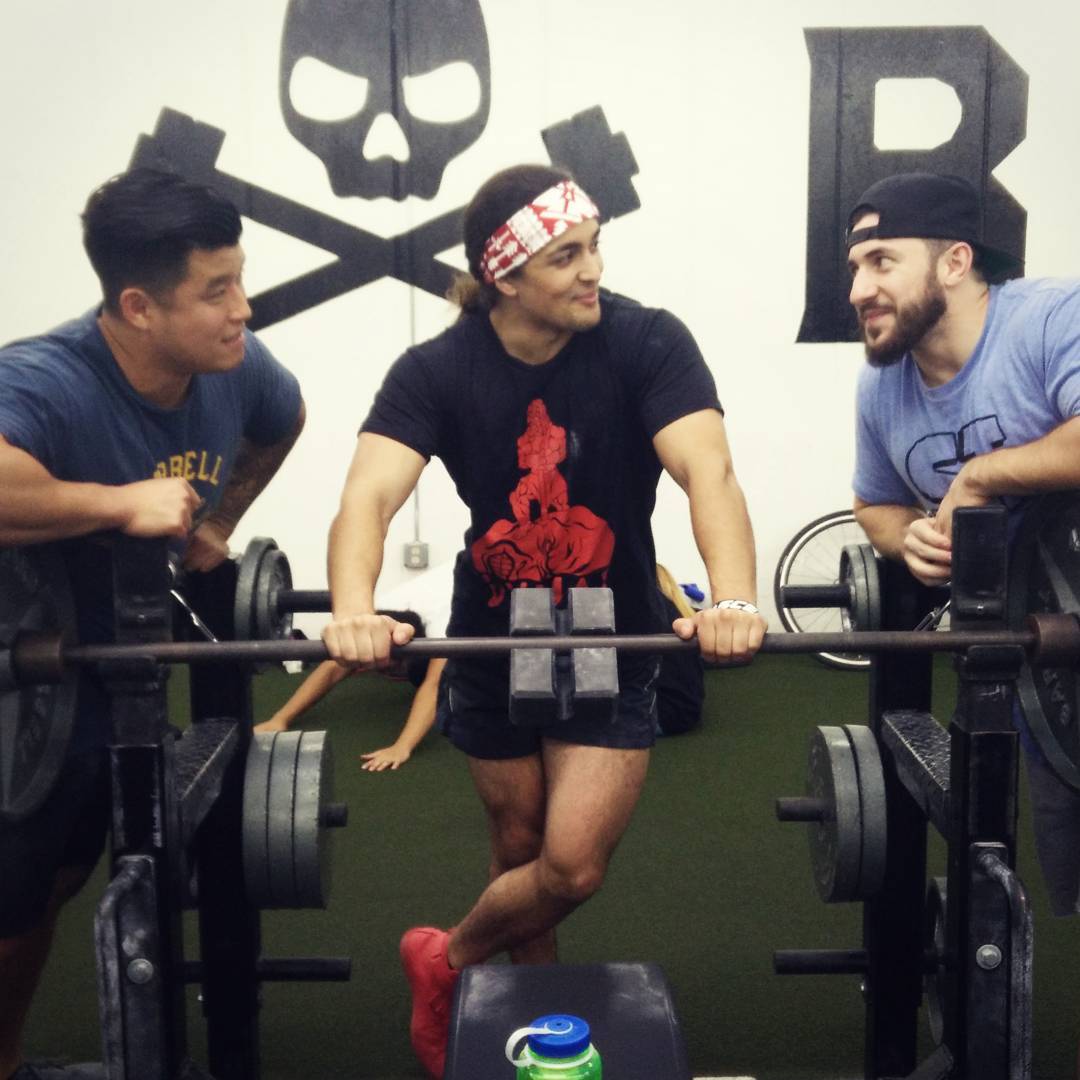 Omar Isuf, Silent Mike, and Bart Kwan

Kizen training is the result of three coaches coming together to combine their collective experience into a new training approach. Between Bart Kwan, Michael Farr & Omar Isuf they have over 3 decades of practical coaching & lifting experience. Their position is unique in the industry as none of them were gifted with any special physical talents. They are just three regular guys that love to lift & love to teach about lifting. Through extensive research, experience, trial/error & learning from the best in the field, they've figured out what they feel is the most effective approach to training.

The aim of Kizen training is to provide a highly effective no frills approach to lifting. Get the results we wished we could have achieved when we first started lifting. No gimmicks, false promises or untested principles. Just battle tested lifting advice from three industry veterans. Our concept of lifting revolves around the notion of continuous improvement. We are constantly striving to get better & more importantly, help YOU get better.

Whether your goal is to lose weight, get stronger, build muscle, be more athletic or a combination of any of those, we are confident we can help you reach your goal.
Course Curriculum
Welcome
Available in days
days after you enroll
12 Week Bench Program & Downloads
Available in days
days after you enroll
Exercise Video Library
Available in days
days after you enroll
Frequently Asked Questions
When does the course start and finish?
The course starts now and never ends! It is a completely self-paced online course - you decide when you start and when you finish.
How long do I have access to the course?
How does lifetime access sound? After enrolling, you have unlimited access to this course for as long as you like - across any and all devices you own.
What if I am unhappy with the course?
We would never want you to be unhappy! If you are unsatisfied with your purchase, contact us in the first 30 days and we will give you a full refund.